Zija - XMpm
Craving Control Caps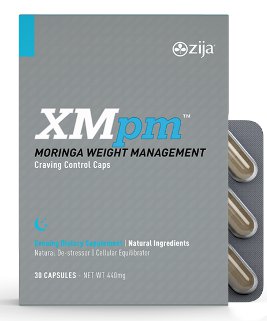 Zija XMpm Product Profile
XMpm is a handcrafted formula with Moringa, Sea Kelp, Ashwagandha and Gynema Sylvestre that helps reduce stress, stabilize your mood, combat evening cravings and prepare your body for restful sleep.
In today's hectic world, stress is on the rise. Our body's natural reaction can lead to overeating, restless nights and a myriad of other health problems. XMpm works to reduce stress naturally, helping you manage your weight and wake up refreshed and ready to move forward!
XMpm is an important part of Zija's complete Weight Management System, along with XMam, SmartMix, XM+ Mix and Premium Tea.
XMpm
30 Capsules: Add to Cart

Wholesale Customer
30 Capsules:
Save up to 20%


Zija XMpm Ingredients:


Each XMpm capsule contains:


Zija Proprietary Blend

Moringa Oleifera Leaf Powder
Moringa Oleifera Seed Cake
Moringa Oleifera Fruit Powder

Chromium (Niacinate 50ug)
Gynema Sylvestre Extract
SensorilTrim Ashwagandha (Withania somnifera)
Atlantic Kelp
5-HTP
Vanadium (Citrate)
Silica
Magnesium Stearate
Stearic Acid
Gelatin (Kosher) Capsule

Zija Ingredients Explained

Directions:
Take one capsule 30 - 60 minutes before evening meal.