Zija - XMam
Appetite Suppressant Caps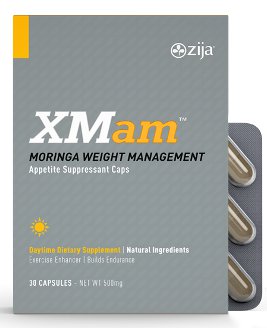 Zija XMam Product Profile
Zija's XMam capsules contain a breakthrough formula that combines healthy Moringa with other natural ingredients to help stave off mid-day cravings, spur natural fat-burning mechanisms and promote a positive mood.
Zija's research team has found a way to further enhance over three decades worth of research on thermogenesis, appetite suppression and weight control. Simply put, XMam raises the bar on weight management and promotes a lean body by turning off your hunger switch and converting body fat for weight loss.
XMam is an important part of Zija's complete Weight Management System, along with SmartMix, XM+ Mix, XMpm and Premium Tea.
XMam
30 Capsules: Add to Cart

Wholesale Customer
30 Capsules:
Save up to 20%


Zija XMam Ingredients:


Each XMam capsule contains:


Green Coffee Bean (Coffee Arabica)
Natural Caffeine (130mg)
Rhodiola Rosea
Citrus Aurantium
Moringa Oleifera Blend

Moringa Oleifera Leaf Powder
Moringa Oleifera Seed Cake
Moringa Oleifera Fruit Powder

BioPerine
Silica
Magnesium Stearate
Gelatin (Kosher) Capsule
Stearic Acid

Zija Ingredients Explained

Directions:
Take one capsule orally mid-morning and/or mid-afternoon, two hours after a meal and/or on an empty stomach, and one and half hours before any meal.
Do not consume late in the day.