Zija - XMprotein
Moringa Lean Protein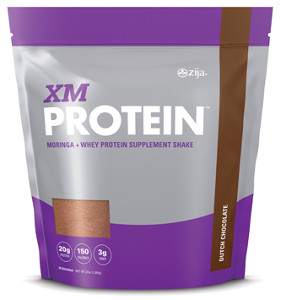 Zija XMprotein Product Profile
Zija's XMprotein is a tasty lean protein shake, packed full of Moringa nutrients.
Zija's XMprotein Dutch Chocolate, or Vanilla Bean offers you the essential nutrients found in Moringa, maximum bioavailability of protein and full amino acid sequencing. It seems to surpass any other meal replacement or protein supplement product of its kind.
The whey in Zija PR1ME90 XMprotein Mix is NOT genetically modified, chemically altered, enzymatically dead, preserved, chemically stabilized, colloidally altered, hydrogenated, isolated, caseinated, acidified, or hydrolysated.
Zija
XMprotein
Weight Management
Get healthy, and lose weight with this great tasting protein shake.
Zija XMprotein Vanilla
1 Bag: Add to Cart

Zija XMprotein Chocolate
1 Bag: Add to Cart

Zija XMprotein Ingredients:


Each 37g (2 scoop) XMprotein serving contains:


Chocolate / Vanilla
150 / 145 Calories
20g of Protein
2g / 1.5g of Fat
60mg of Cholesterol
105mg / 60mg of Sodium
4.5g of Sugars
13g of Carbohydrates
3g / 1g of Dietary Fibre
Zija Proprietary Blend

Whey Protein
Moringa Oleifera Leaf Powder
Moringa Oleifera Seed Cake
Moringa Oleifera Fruit Powder

Dutch Cocoa Powder/Vanilla
Pure Cane Sugar
Natural Flavours
Stevia (140mg / 160mg)
Fruit Pectin

Zija Ingredients Explained

Directions:
Add 2 scoops (37g) to 600mL of cold water or milk and mix well.
Drink one serving of Zija XMprotein Dutch Chocolate or Vanilla as an alternative healthy meal.
One bag of XMprotein meal replacement contains enough mix to make approximately 28 delicious shakes.