Zija - XM+
Increased Metabolic Energy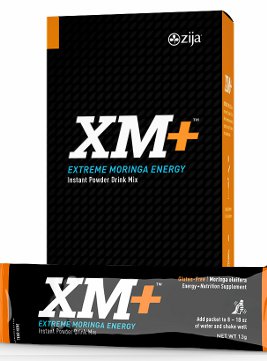 Zija XM+ Product Profile
Moringa oleifera is considered by many to be the most nutrient-rich plant ever discovered. This all-natural beverage is overflowing with antioxidants, minerals, omega oils, vital proteins and cell-ready nutrients. Zija is the first - and only - company to channel Moringa's dramatic nutritional properties into a refreshing, nourishing energy beverage that gives you the balance nature intended.
XM+ Extreme Moringa Energy Mix combines the wonders of Moringa Oleifera with ingredients like Natural Green Tea and Ginseng to aid in weight loss, appetite control, and increased metabolic energy. The addition of Natural Desert Tea improves cardiovascular capacity, oxygenation, and circulation while Fruit Pectin contributes to the reduction of harmful cholesterol in the body.
Zija
XM+
Energy
Get healthy, stay healthy, lose weight, and be more active with this great tasting mix.
XM+
32 Packets: Add to Cart

Wholesale Customer
32 Packets:
Save up to 20%


Zija XM+ Ingredients:


Each XM+ packet contains:


49 Calories
XM+ Proprietary Blend (7.9g)

Natural Tropical Flavour
Moringa Oleifera Leaf
Ephedra Nevadensis
Green Tea Extract
Moringa Oleifera Seed Cake
Moringa Oleifera Fruit Powder
Ginseng
Garlic

Pure Cane Sugar
Fruit Pectin
Citric Acid
Mango Flavouring
Natural Caffeine
Agar
Stevia (108mg)
Silica
Stearic Acid

Zija Ingredients Explained

Directions:
Add one packet to 600mL of cold water and shake well.
Drink one serving of Zija XM+ Mix any time of morning on an empty stomach (preferably 15 minutes prior to a healthy breakfast).
Do not drink late in the day.