Zija - SuperMix
Moringa Oleifera Blend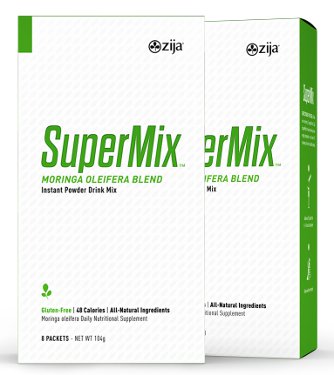 Zija SuperMix Product Profile
Shake things up with Zija's SuperMix, an easy-to-open packet that you can add to water for more than two times the pure Moringa nutrition compared to Zija SmartMix!
Zija SuperMix - Drink Life In!
SuperMix is packed with two times the Moringa in the purest form available on the market, so it's overflowing with cell-ready nutrients, antioxidants, minerals, omega oils and vital proteins. Zija is the first – and only – company to channel Moringa's dramatic nutritional properties into a refreshing and nourishing beverage that helps you maintain a healthy, active and balanced lifestyle just as nature intended.
Zija
SuperMix
Nutritionals
Get healthy, stay healthy, lose weight, and be more active with this great tasting mix.
SuperMix
32 Packets: Add to Cart

Wholesale Customer
32 Packets:
Save up to 20%


Zija SuperMix Ingredients:


Each SmartMix packet contains:


48 Calories
SuperMix Proprietary Blend (9g)

Tropical Flavour
Moringa Oleifera Leaf Powder
Moringa Oleifera Seed Cake
Moringa Oleifera Fruit Powder
Mango

Pure Cane Sugar
Fruit Pectin
Agar
Citric Acid
Stevia (100mg)
Flo-Gard

Zija Ingredients Explained

Directions:
Add one packet to 600mL of cold water and shake well.
Drink one serving of Zija Super Mix in the morning on an empty stomach, or at least 15 minutes prior to a healthy meal.