Zija - SmartMix
Enhanced Moringa Blend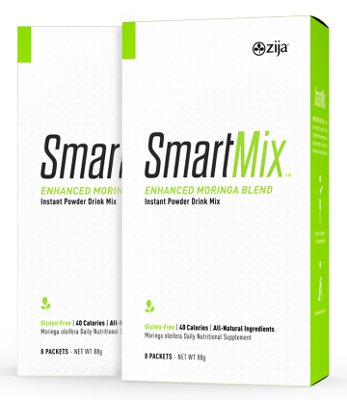 Zija SmartMix Product Profile
Shake things up with Zija's SmartMix, an easy-to-open packet that you can add to water for a dose of pure Moringa nutrition – even on the go!
Zija SmartMix - Drink Life In!
SmartMix is packed with Moringa Oleifera, Chicory Root, and FoTi Root so it is overflowing with cell-ready nutrients, prebiotics, antioxidants, minerals, omega oils and vital proteins. Moringa's natural benefits include anti-inflammatory support, heightened mental clarity, increased energy, anti-aging, and improved circulation. Chicory Root Extract, derived from the herbaceous Chicory plant, contains inulin, a prebiotic that provides a feeling of fullness and stimulates healthy digestive function. FoTi Root Extract has been used for thousands of years in Chinese medicine to increase vitality and mood. It also helps remove toxins from the body.
Zija
SmartMix
Nutritionals
Natural, gluten-free and contains over 90 nutrients and benefits in each serving.
SmartMix
32 Packets: Add to Cart

Wholesale Customer
32 Packets:
Save up to 20%


Zija SmartMix Ingredients:


Each SmartMix packet contains:


40 Calories
SmartMix Proprietary Blend (6.3g)

Chicory Root Extract
Moringa Oleifera Leaf Powder
Moringa Oleifera Seed Cake
Moringa Oleifera Fruit Powder
FoTi Root Extract

Natural Tropical Flavour
Fruit Pectin
Guar Gum
Agar
Citric Acid
Stevia (88mg)
Silica
Stearic Acid

Zija Ingredients Explained

Directions:
Add one packet to 600mL of cold water and shake well.
Drink one serving of Zija Smart Mix any time of day on an empty stomach (preferably 15 minutes prior to a healthy breakfast).